News from Rob Mimpriss (2018)
---
Click to read more: 'With the future of Wales being constantly undermined by the Tory Government, we believe independence is now the only viable option for our future as a nation.'
Iestyn ap Rhobert, Chair, YesCymru
---
Image from Belfast Telegraph.
Click for more: 'Unless there is a change of heart among our British friends, Brexit will become a reality, with all its negative consequences, in March next year. We on the continent haven't had a change of heart. Our hearts are still open to you.'
---
Click to read a short story for November: 'Mars, Bonfire, Mountain Ash,' a story of friendship and thwarted desire published in For His Warriors: Thirty Stories.
---
Latest publication: 'The Cloak of Kings' Beards: Three Welsh Folktales' with a European theme, in New Writing: The International Journal for the Practice and Theory of Creative Writing, 24th September 2018.
---
13th November: I feel for hard leavers, like Boris Johnson, who foresee the UK becoming a despised, forgotten vassal state to a more powerful eastern neighbour.
Cydymdeimlad o Gymru. Condolences from Wales.
---
Daniel Owen's second novel, Rhys Lewis, set on the border with England, and first published in Welsh in the 1880s, concerns the friendship between Rhys Lewis, the pious and unworldly protagonist who becomes a chapel minister, and his alter ego, the shrewd, charming, loquacious Wil Bryan, who moves to England where he begins a business. The novel is set against the backdrop of an industrial dispute at the local mine, where the long-established manager has been replaced by someone whose chief qualifications for the job are his unfamiliarity with Wales and his inability to speak Welsh.
In one conversation with the protagonist, Wil Bryan reflects on the conclusions he has drawn from his facility with the English language, and his observations of English mores. It is not, he says, that English people are culturally or racially superior to the Welsh, except that they have the knack of projecting an air of competence and confidence, which Welsh people, such as Rhys Lewis, lack. Hence, in our own time, an Englishwoman resident in Wales for many years informs me that 'the English' are more qualified intellectually for government, although 'the Welsh' have nicer singing voices; Dominic Raab admits that he has only just realised the fact that a lot of the UK's trade takes place across the English Channel; and Jonathan Edwards reports on Politics Home that Wales's Labour government specifically asked Westminster to restrict its economic powers.
---
Imaged shared by Brexit Exposed. Brexit hasn't emboldened racists... has it?
---
One quarter of houses bought in Ceredigion and over a third in Gwynedd last year were for second homes.
The loss of housing stock to property 'developers' and second-home owners is common in rural areas throughout the UK and Europe. But in Wales, where the national language has become a minority language in only a century through persecution, exploitation and neglect, the loss of rural communities in its heartland is a cause of anger, grief and despair.
---
5th November 2018: Appearing in court in Caernarfon for non-payment of his TV licence fee, William Griffiths of Bodorgan, Môn, joins Heledd Gwyndaf and other protesters in Cymdeithas yr Iaith in campaigning against Westminster's control of Welsh broadcasting, and the threat to Welsh democracy that this represents. Meanwhile, the newly-elected chairman of Cymdeithas yr Iaith, Osian Rhys, reminds us that membership is open, not only to fluent Welsh-speakers, and to activists willing to risk imprisonment for their beliefs, but to all who wish to protect and preserve the national language of Wales
---
Tân cyntaf y gaeaf, gwin blodau'r ysgaw, a cherddoriaeth Daniel Jones. Cyfarchion y tymor i'm darllenwyr i gyd.
---
---
The cost of pride revealed: New economic projections show that a hard Brexit could cost the young, who voted Remain, £108,000 in lost earnings over the next thirty years, and that a soft Brexit could cost them £32,000, reports The Independent.
---
Plaid Cymru MP, Liz Saville Roberts, addresses the House of Commons in Irish, as she urges the British government to institute legal protections for the Irish language.
---

22nd October 2018
Dear Theresa
Last Saturday I took part in the demonstration which brought the centre of London to a standstill, and was one of the largest protests in the UK since the marches against the poll tax in the late Margaret Thatcher years. My purpose in attending was to stop Brexit, to end your premiership, and to bring your dreary and shambolic government to an end.
I would like to apologise in case the congestion and noise caused you any alarm or distress.
Yours sincerely
Dr Rob Mimpriss
B.A., M.A., Ph.D.
Member, The Welsh Academy
---
21st October: 700,000 people, a crowd driven to a standstill because Whitehall could not contain it, loud music, ribald humour, and shouting, yet not a single cross face or angry gesture that I saw. Remain is the People, and the People at their best.
---
21st October: A day or so after the referendum on Brexit, one of a group of friends with whom I was discussing the result explained how he was persuaded to vote Leave. He had been planning to vote Remain on the basis of the evidence that had been presented during the campaign, but just as he reached the voting booth he imagined Deborah Meaden saying 'I'm out' on The Dragon's Den, and so he voted Leave on the basis of a whim and a catchphrase.
Deborah Meaden addressed the march for a People's Vote in central London yesterday. 700,000 people participated, creating the second largest protest march in a century.
---
The comments below come from a friend, and attempt to persuade an acquaintance online — who knows that he knows best, because most people think as he does — that in fact, the question of Scottish independence is far from settled, that the future of Ireland is not some peripheral detail to the UK, that Wales is not a loyal follower of England, and that Brexit is not a project supported by the four nations of the UK:
Scotland had a referendum to stay in a UK that was part of the EU. The contempt with which their vote, and their subsequent 'remain' position, is now held in by Westminster shows how little the government cares for the opinion of their 'united' partner. Another vote for independence is almost inevitable, given how badly-treated the Scots now feel.
Northern Ireland also voted remain, yet now faces having border communities torn apart and a potential return to nationalist violence because of a predominantly English government propped up by a minority of NI extremists. The culmination of a process begun in 1919 is now a more realistic possibility than ever before.
Wales has had its language, communities and traditions almost obliterated by its neighbour. Within my parents' lifetime, kids were beaten and punished at school for using their native language in a concerted attempt at erasing it — and the cultural perspectives that go with it — from history. More than the other surviving Celtic nations, Wales gets English newspapers, English television, English culture. No wonder they were taken in by the same illusory future come the referendum.
Other Celtic nations — regions now — like Cornwall and Cumbria have been long-since subsumed into a south-east English view of these islands. That has been the process for hundreds of years: start in the bottom-right, obliterate any dissent, stamp a new culture over everything. When that system ran out of British Isles, they moved around the planet doing the same.
Brexit is a death rattle of a particular type of English nationalism, English exceptionlism and superiority. It will lead to the breakup of the UK, and, with it, the loss of those first English colonies, just as the Empire lost the USA, Australia, New Zealand, South Africa, Ireland, India, Singapore, Malaysia, Burma, Palestine and all the rest.
---
Only in conversation with a Brexiteer would one be challenged to explain whether and how a majority can be wrong.
---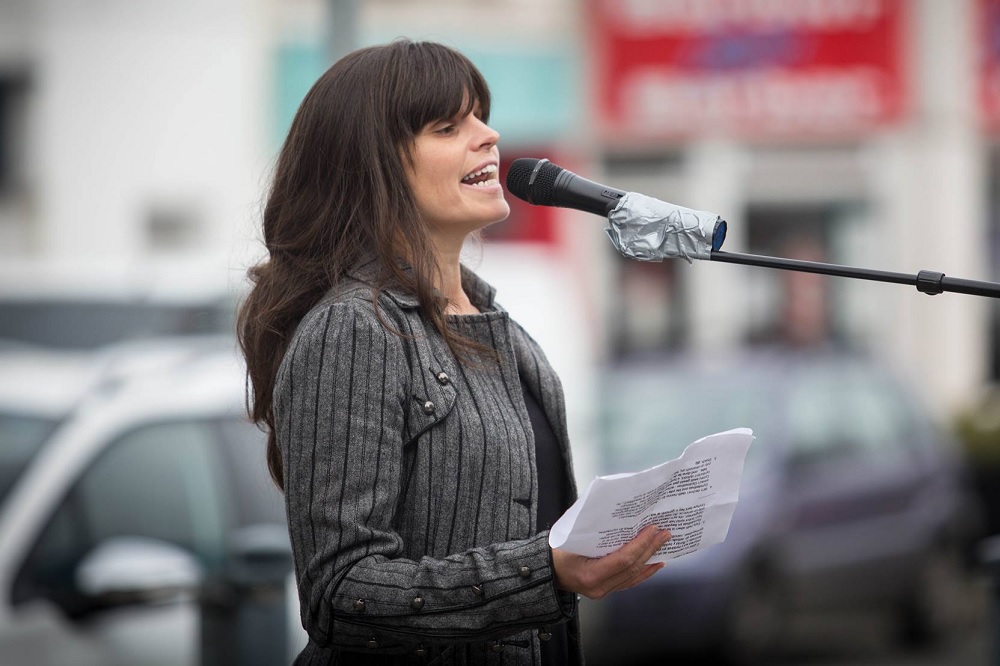 10th October: It is deeply discouraging that even twenty years after we established the principle of home rule, ordinary Welsh speakers feel that they must risk court and imprisonment merely to defend a language and culture that ought to be valued by everyone. It is deeply hopeful that the culture they are defending still exists, in part, because of the sacrifices made by their predecessors.
Court cases against Cymdeithas yr Iaith members continue.
---
A study by the Centre for European Reform, reported in The Guardian, shows that far from saving the UK £350 million per week for use at home, Brexit is costing the UK £500 million per week in lost growth, and is perpetuating an austerity that would otherwise be at an end. I recall the mythical Irish hero Mael Duin's journey to the underworld, and the mill that he sees there: 'Here is sent all the corn that men begrudge each other.'
---
25th September: Click to read — an open letter to Theresa May concerning the UK/EU negotiations and the nature of respect.
---
'National Theatre Wales described English as "an investigation into language and identity." There is no version of the history of the English language in Wales which is not a history of its relationship with the Welsh language. How those two languages forge our identity is arguably the defining characteristic of our nation. And yet English erased this crucial aspect of the story of English in Wales entirely and deliberately.
'It was the open deliberateness of this act which made English a turning point for so many artists in Wales. Its erasure of a distinctive Welsh context was not a mistake.
'It is in this context that we wish to provoke a debate about what kind of national theatre we desire. We want it to be a theatre. We want it to be Welsh. These are two things we thought we could take for granted. And yet, despite the uproar over English, it is an English company which NTW has entrusted to deliver a flagship project in 2020.'
From an open letter from the playwrights of Wales, published by Wales Arts Review, a reflection on the way institutions set up to serve Welsh culture and nationhood are subverted to English cultural and British nationalist ends.
---
'At the end, fanatical fascists prefer to destroy everything in a final paroxysm, even their own country, rather than admit defeat.'
Robert O. Paxton, The Anatomy of Fascism
Image and quote chosen by James Perrin
---
21st September: It is curious that Theresa May can have lived so long on earth without learning one of the most obvious facts about human relationships. Those who complain the loudest that they are treated without respect are almost invariably those who deserve none.
---
Image from Cymdeithas yr Iaith
---
Another gleaning from R. R. Davies's book: the Penrhyn family, famous for their ruthless exploitation of slate quarrymen in Wales, built their wealth on the property confiscated from Owain Glyndŵr's supporters.
---
According to R. R. Davies's book on Owain Glyndŵr, Glyndŵr offered support to the Avignon papacy, and did so on two conditions: first, an archbishopric in Wales, and a compulsion on all Welsh clergy to speak Welsh; and second, the support to establish two Welsh universities. Glyndŵr's so-called rebellion was crushed, many of his followers were hanged, drawn and quartered, and Wales had to wait roughly five hundred years for the University in Wales and the Church in Wales to be established.
---
10th September: This tired plea for basic tolerance and courtesy towards the Welsh language is not a response to Katie Hopkins' latest spasm of hate, but to the racist attack on the language before that (or the one before that, or the one before that), and will do just as well for the next one. It was posted to Facebook by a professional translator in 2017, and is followed by my translation:
Dwi di blino. Di blino ar deimlo bod rhywun yn ymosod arna i o hyd. Di blino ar orfod amddiffyn yr iaith ges i'n magu ynddi, yr iaith dwi'n byw ynddi a'r iaith dwi'n gwithio ynddi. Dwi di blino ar glywed pobl sy'n gwybod dim yn diystyru'r gymuned nath fy ngwneud i'n pwy ydw i, ac yn dweud ein bod ni ddim yn bodoli nac yn bwysig. Dwi di blino ar ddarllen sylwadau difeddwl ar gyfryngau cymdeithasol sy'n dilorni'r hyn rydw i a'r bobl dwi'n eu caru yn ei gredu ynddo. Dwi di blino ar gwmnïau mawr a sefydliadau a ddylai wybod yn well yn gwahaniaethu yn erbyn fy niwylliant i. Dwi di blino ar orfod egluro pam fy mod i'n dewis siarad iaith sy'n dod yn naturiol i mi, a gorfod cyfiawnhau fy rhesymau am astudio "iaith roeddwn i'n ei siarad yn barod" yn y brifysgol. Dwi di blino ar bobl sydd ddim hyd yn oed yn rhan o'r sgwrs yn meddwl fy mod i'n siarad amdanyn nhw. Dwi di blino ar ddeud wrth bobl mod i'n gyfieithydd, mond iddyn nhw ddweud wrtha i bod fy ngyrfa i'n wastraff o arian a bod pawb yn deall Saesneg beth bynnag. Dwi jyst di blino. Raid i rywbeth newid.
I'm tired. I'm tired of feeling under constant attack. I'm tired of having to defend the language I was raised in, live in and work in. I'm tired of hearing people who know nothing about it devaluing the community that made me who I am, saying we don't exist or don't matter. I'm tired of reading thoughtless comments on social media abusing what I and those I love believe in. I'm tired of large companies and institutions that ought to know better discriminating against my culture. I'm tired of having to explain why I choose to speak the language that comes naturally to me, or justify my reasons for having studied a language I already spoke at university. I'm tired of people who aren't even part of the conversation assuming that I'm talking about them when I speak Welsh. I'm tired of telling people I'm a translator, only to be told that my career is a waste of money since everyone understands English anyway. I'm tired, and something must change.
---
Rydw i'n 47 mlwydd oed. Mi ddes i'n aelod o Blaid Cymru mewn dicter a siom pan ddychwelodd y Ceidwadwyr i lywodraeth yn San Steffan yn 2015.
Rydw i wedi cefnogi Plaid Cymru yn ffyddlon drwy fy holl fywyd fel oedolyn. Ar yr un pryd roedd llywodraeth Prydain yn manteisio ar Gymru ac yn anywybyddu Cymru, ac arweinydd ar ôl arweinydd yn cael ei feio am fethu sicrhau'r fuddugoliaeth roedd ein gwlad ni a'n plaid ni ei angen. Mi ges i fy ngwatwar yn aml am fod yn aelod o blaid 'heb ddyfodol', a fy nghondemio weithiau yn 'genedlaetholwr cas'. Roedd anwybodaeth a rhagfarn yn gyffredin yng Nghymru, a chenedlaetholwyr yn nhyb llawer yr un fath â ffasgwyr.
Rydw i'n credu bod egwyddorion asgell chwith Leanne Wood yn cynrychioli'r newid mae llawer yn chwilio amdano. Rydw i'n credu bod Leanne yn chwalu'r rhagfarnau rydw i wedi eu gweld a'u profi. Mae Leanne yn boblogaidd ac yn egwyddorol, ac felly rydw i'n ei chefnogi fel arweinydd Plaid Cymru.
I am forty-seven years old. I became a member of Plaid Cymru in rage and disappointment when the Conservatives returned to government in Westminster in 2015.
I have supported Plaid all my adult life. I did faithfully as Wales was exploited and ignored by the British government, and as party leader after party leader was blamed for failing to achieve the electoral breakthrough Wales needs. Much of the time I was shouted at as an evil 'nat', and most of the time I was laughed at because my party had no future. Ignorance and prejudice were so common in Wales that nationalists were considered no better than fascists.
I believe that Leanne Wood's left-wing principles represent the change that many in Wales are seeking. I believe that Leanne is breaking down the prejudices that I have experienced. Leanne is popular, but she is also principled, and for this reason I support her as leader of Plaid Cymru.
---
21st August: In the summer of 2014, a prisoner in Nottingham gouged out his own eyes because he not endure the heat in his cell where he was confined for twenty-two hours a day, in a prison where inmates were unable to wash themselves. Four years later, a government minister admits that conditions in UK prisons are unacceptable.
---
It is a curious necessity of the nearby farmer's approach to husbandry that he will give you hell for deviating from a footpath even while his livestock placidly graze his neighbours' lawns.
---
15th August: The party which now seeks to abolish democracy in Wales celebrated its mandate for Britain's withdrawal from the European Union with a thuggish brawl inside the European Parliament.
---
'The only true counterforce to the phenomenon of Auschwitz is individual autonomy, the capacity for reflection, self-determination, not joining in, not assimilating, and being a man of character, an independent spirit instead of a characterless individual.'
Theodor Adorno, qtd. in Rob Riemen, To Fight Against This Age: On Fascism and Humanism
---
Llun gan Meilyr Tomos / Photo by Meilyr Tomos
Coloneiddio'r canol oes a'r cyfoes: Parked in front of Caernarfon Castle, built by Edward I to consolidate his conquest of Wales, a van advertising holiday homes on Llŷn, where there is homelessness, where there is a shortage of affordable homes for local people, and where the Welsh language and Welsh culture are under threat. The advertising, needless to say, is printed in English only.
Internal Colonialism by Michael Hechter, a sociologist's study of England's relationship with its Celtic neighbours, demonstrates that annexation of Scotland and Ireland precipitated their industrial decline: a reduction in the range of products they manufactured, and a reduction in the number of nations to which they exported, as England reconfigured their economies to suit its own import needs. Hechter explores the economic effects of this into the early 70s, when he is writing, demonstrating that the economic disadvantage that the Celtic nations suffered during the industrial period, along with residual cultural racism which affects the type of investment they receive, leaves them impoverished and reliant on England today.
Hechter also explores the suppression of the Celtic languages and cultures, which again he relates to England's import needs and the cultural racism by means of which its expansionism was justified. The end product for Wales is an economy hopelessly reliant on tourism which it resents, in part for the stridency with which it conducts itself.
---
30th July 2018: Welsh nationalists in the civil service were labelled 'subversives' and were marginalised and denied promotion during the Margaret Thatcher years, according to official documents explored by Wales Online. That such people were never told that they had been blacklisted, but were left to suspect that they were suffering discrimination, or to reason with themselves that they were somehow failing in their duties at work, reminds me of the subtler forms of oppression practised against democrats in Hungary and Czechoslovakia by the Communists.
---
Today I made good use of my anger management skills. I also practised controlling my sarcasm.
---
27th July: The flooding of the village of Capel Celyn is important in the history of a small, stateless nation because it demonstrated our powerlessness as a colony of England. Liverpool Council wanted the reservoir for industrial purposes, even though it forced the language barrier into a retreat from the position that deliberate and destructive anglicisation had imposed, so that when Gwynfor Evans, the leader of Plaid Cymru, went to remonstrate with them, they banged their desks to drown out his voice. Every MP that Wales had, bar one, voted against the reservoir, but in Parliament it is English votes that count.
In the recent drought, the water levels in the reservoir have dropped, and the village has become visible. If a levy of just one per cent were applied to the water that England extracts from Wales, it would raise £3 billion for Wales every year.
English Votes for English Laws, introduced as an expression of English spite after the Scottish referendum, followed the fiftieth anniversary of the flooding of Capel Celyn by a couple of days. I wrote to David Cameron to point out the fact. I did not receive any reply.
---
The headline is banal, the comments utterly horrifying. MailOnline readers reveal their fully-fledged Nazism as they express their grief for Adolf Hitler's death, and their admiration for his deathcamp policies.
---
A screengrab from a British nationalist Facebook group kindly supplied by a friend. A pride in national culture and heritage which never mentions a composer or author, a sense of thwarted national greatness, a hatred of enemies without and outsiders within, a paranoid self pity, a mob mentality and a demand for mob rule, and a myth of victimisation arising from a war that perhaps few of these self-proclaimed patriots remember.
---
'Within Wales, surveys consistently indicate most people have a positive attitude to the language. But Wales exists within the British state. And, to the extent they think about such things at all, many of those with a strongly British identity are deeply contemptuous of the native non-English languages of these islands. Welsh, along with Gaelic and Irish, is rarely valued as part of the collective cultural heritage of all of us in these islands. This should belong to all of us – but it does not.
'The left has no room for smugness on this issue. Lots of people who would happily support indigenous cultures in the global south have little time for them in the UK. Many friends and colleagues in Aberystwyth, who would be impeccably leftist on other matters, made no attempt to engage with the local culture around them, and were seemingly oblivious to the linguistic marginalisation and colonialism in which they were complicit. But they were hardly alone. The Green party in Wales, for instance, has rarely shown much time for the language, and sometimes appeared almost openly dismissive.'
Prof Roger Awan Scully, reviewing the state of the Welsh language in response to the Welsh government's proposals for a new language act, in New Statesman.
---
14th July: #StopFundingHate. Read an open letter to Mr Christian Härtnagel, Managing Director of Lidl UK, concerning his company's sponsorship of the Daily Mail.
---
10th July: Nation.Cymru — 'Winning the economic argument is the key to Welsh independence.'
Rydw i'n anghytuno, mae'n ddrwg gen i ddweud. Nid rhesymau economaidd, neu wleidyddol, neu ddiwylliannol, neu foesol, fydd yn ennill annibyniaeth Cymru yn yr oes Brexit, rhesymau sydd wedi'i gwrthod tro ar ôl tro, ond llu o arwyddeiriau, niwl o addewidion yn eu credu gan braidd o ddefaid dall, byddar, anwybodus, cas: y fath o wleidyddiaeth fy mod innau'n casáu.
---
Only in conversation with a Brexiteer would it be necessary emphatically and repeatedly to assert that Hannah Arendt is not the same person as James O'Brien.
---
Quoting a friend: 'Nothing sinks your heart quicker than when, as you mention this glorious weather to someone, they begin their reply with "We've got a cottage on Anglesey," delivered with all the withering nonchalance of someone talking about a disposable, throw-away possession.'
---
Art the Armed Forces Day, 11am-10pm, 27th June, Y Tabernacl, Llandudno, with an art workshop, music and readings, and an insight into the history of peaceful protest and pacifism in Wales. Rob Mimpriss, Trystan Lewis, Louise Fazackerley, and others.
---
Images of the march in London on 23rd June by Anna Reynolds. Over one hundred thousand people, no disorder that I saw, and the flags of Scotland, Cornwall, Croatia and Wales, including my own.
---
14th June 2018: While the Scottish paper, The National, reflects on the fifteen minutes of Parliamentary time that effectively brought twenty years of home rule in Scotland to an end, a friend reminds me of the mass walk-out by Irish MPs in 1917, less than six years before the establishment of the Irish Free State.
Meanwhile, in Wales, whose Labour government did not resist the depatriation of powers, an edition of Question Time is broadcast from Caernarfon with just one Welsh panelist. A colleague informs me that audience members have been asked not to raise questions relating to Wales.
---
The state of public morality in the UK: someone on a 'cross-party' political discussion forum reports that he is 'bored' of hearing about those who died in the fire at Grenfell Tower.
---
12th June 2018: Rachel Sylvester reports in The Times today that an unnamed Conservative MP cannot support amendments to the Brexit Bill today because death threats from Brexiteers have made him afraid for his family. In addition, she reports, a former minister has described the UK as enduring 'a reign of terror.'
---
In the 1950s, the experimental psychologist, Leon Festinger, sent his postgraduate students to infiltrate and observe a small cult that was operating in the area at the time. The cult leader was in telepathic communication with a race of aliens whose flying saucer was on the way to earth, and would destroy and remake its surface on 21st December 1954. The cult leader and her followers would be made leaders in the new world order that the aliens would institute.
As the date drew near, and the cult grew, the leader offered her followers various early meetings in remote locations with the aliens; but always, due to technical difficulties, government interference, or lack of faith on the part of the cult, they failed to appear. Despite this, cult members' expectation of their apotheosis grew palpable, and they stripped their clothes of belt buckles, zips, and anything else containing metal that would interfere with the flying saucer's drives. Once again, the aliens failed to appear, and 21st December passed without incident.
After a brief period of bewilderment and despair, the cult came to realise that their faith as a group had saved the entire earth from destruction, and the failure of their predictions became proof that their teachings were true. When Leon Festinger called on them, they hailed him as an alien travelling in disguise. His book about the cult, When Prophecy Fails, remains a seminal study of the way the mind invents pretexts for rejecting truth, and is relevant in the light of Michel Barnier's warning that the UK must face facts about the inevitable economic and political consequences of leaving the European Union.
---
19th May: Accounts of the royal wedding today remind me of James Frazer's account of the monarchy among (as I recall) the Ashanti people of North West Africa in his seminal work of anthropology, The Golden Bough (1890). Their king, who represents the land, and the health of the land, is elected once a year, housed in a palace, freely given everything he seeks except his freedom, and is publicly whipped to death at the end of his term, to fertilise the land and ensure good crops.
I am not convinced that this is a better defence of monarchy than the fact that UK's royal family work hard.
---
19th May: 'Brit ydi Betty — hei, go dda rŵan, cyfatebiaeth cytseiniad — Brit ydi Betty. Ia, Brit o'r Brits. Coronation Street, Jiwbilî, Y Cwîn, Alf Garnett, Falklands. Union Jack, Princess Di — y cwbwl. Gadael llonydd iddi hi ydw i. Dwi mewn occupied territory yn y fan hyn.'
Angharad Tomos, Yma o Hyd.
---
My knowledge of history is sparse, and others might suggest more nuanced parallels. But for me, the decision made by Labour, Tory, UKIP and LibDem members of the Welsh Parliament, to surrender wide-ranging powers to England following Brexit, smacks of the Estonian puppet parliament's surrender to Estonia's annexation, loss of land, and cultural sterilisation by the USSR in 1940.
---
The flyer that just dropped through my door, inviting me to 'discover retirement living to the full in Benllech', is written, appropriately enough, in English only.
---
#BrexitMeansRacism: A second sample of the hatemail sent to Prof Tanja Bueltmann of Northumbria University, following her appearance at the Women Against Brexit rally. An earlier sample is below.
---

'Our leverage is gone, our leadership lost and our parliament weakened. This is a Labour-Tory stitch-up like no other.' Leanne Wood addressing the Senedd on the Labour government's decision to hold powers devolved to Wales for up to seven years after Brexit.
---
@WomenObeyUKIP. 'Genocide' used as verb.
---
20th April: The German journalist, Sebastian Haffner, remarked that the effect of the Nazi race laws was to give legal existence to concepts that had no other existence, to force race and purity of blood into being with nothing but their own brutality: it became important to be pure German, to be Aryan, because one's life depended on it. The insight has other parallels in our time, but a year or so after Theresa May set out to unite us as a British nation which, like the Aryan race, has no existence except for the obedience it demands; a year or so after she set out to abolish our European identities, and weaken our Scottish and Welsh identities; a year or so after she set out to crush the Welsh and Scottish nationalists who seek, as she claimed, to divide us, I find it almost impossible to pay attention to the needs of my own country — the undermining of its political and cultural identity, its twenty-year domination by a single party, the growing crisis brought about by the suicide of one its ministers — because of the constant anger and fear that her policies arouse in me.
---
My local Asda displays men's toiletries, not beside the women's toiletries, but beside the household cleaning products.
---
9th April: If the British ignore a petition which has garnered thirty thousand signatures in a country of only three million in just a few days, and which already represents a whole one per cent of the population, then they openly acknowledge that Welsh democracy is meaningless, and that even such a groundswell of protest, if it comes from Wales, can be ignored. If, on the other hand, they bow to this petition, then they confess that Wales is not a principality, and that the crown prince of England — if there should be such a thing — has no title to Wales. In either case, the recent fashionable lie that the UK is an equal partnership of willing participants, and that Wales is not a colony of England, is exposed.
If a man gives me a casual back-hand blow, I am advised to turn my face to the side, to challenge him with the other cheek that can only be struck with the fist. The constant humiliation of an equal must be perpetuated either by ignorance, which is now fading in Wales, or by the threat of violence. Wales's growing awareness of itself must lead to oppression or to liberation. The very sourness and weariness of Rod Liddle's remarks acknowledges that the old relationship is no longer possible.
---
By private agreement between the Swedish government and the Swedish royal family, the Øresund Bridge between Sweden and Denmark, currently named after the water it crosses, is renamed the Charles X bridge, in honour of the Swedish king who invaded Denmark in 1658, and razed its capital, Copenhagen, to the ground. The people of Denmark naturally protest, demanding that the bridge retain its geographical name, or be named after some joint Scandinavian achievement, or after some Swedish figure less insensitive to Danish history.
It later transpires that while the decision to rename the bridge was made entirely in Sweden, the Danish government was 'informed' of the change, but decided not to bother complaining. The Danish ambassador to Sweden tells his people that they should 'respect' King Charles X, and castigates them for being evil nats. The reason this has not happened, and the debacle over the Severn Bridge is happening as I write, is that Wales still belongs to England, and therefore deserves no better.
---
By agreement between the Republic of France and the European Union, the Channel Tunnel is renamed in honour of Charles de Gaulle. The people of England understandably object, and a sharp increase in spontaneous human combustion is observed among Daily Mail readers. It transpires that Theresa May was notified of the change while Home Secretary, but didn't get around to doing anything about it.
The disagreement over the Channel Tunnel is settled to the satisfaction of both sides, at which point the Welsh timidly pipe up, and ask if they get a say in what the Severn Bridge is called. Both sides round on them in a fury, to condemn them as a threat to the stability of Europe, and as small-minded, paranoid and divisive nats.
---
'The View from Germany: Brits are in denial about their diminishing global importance.' Click to read an article by Ruth Berschens of the leading German business paper, Handelsblatt, on the UK's failed attempts to fracture the European Union, or to create a new trade association with its former colonies, and on the consequences of its future prosperity and influence, and its political unity.
---
The problem here is not so much that Lincolnshire, or any other English region, might be offered the same powers that the Celtic nations are offered, although in most cases such comparisons are intended to belittle and sting. The problem is that any power that an English region refuses can, with a facile pretence at fair-mindedness, be refused a Celtic nation also.
---
27th March: #BrexitMeansNazism. And an activist friend in London informs me that as MPs meet to discuss the significance of the fact that the Leave campaign cheated, an anti-Brexit protester outside is attacked by young men giving Nazi salutes, and violently assaulted.
---
'Sous prétexte d'information équilibrée, la BBC observe un black-out remarquable sur les manifestations pro européennes au Royaume-Uni.' [Under the pretext of balanced reportage, the BBC observes a remarkable blackout on pro-European demonstrations in the United Kingdom.]
Philippe Bernard, British/Irish correspondent for Le Monde via Twitter.
---
24th March: Among the thousands of demonstrators who took part in the march against Brexit in Leeds today, I saw just two counter-protesters. One flapped his union jack as we walked past, and muttered something patriotic and rousing, and the other held up a sign as we gathered before the stage, handwritten on part of a cardboard box that a vacuum cleaner had come in.
He heckled the speakers, which we didn't much mind, but as speaker after speaker came forward, and gave speeches he didn't understand, but disagreed with anyway, he became more and more physically threatening. During one such confrontation, someone quietly fixed a 'Bollocks to Brexit' sticker on the back of his jacket. The last I saw of him, it was still there.
---
The Leeds Ibis Budget Hotel. Your belt and shoelaces may be confiscated upon arrival.
---
'This Williamson... this — how do you say — Gavin Williamson. He is not strong man. He is like man who sleep with other man, because afraid vagina will eat him, or like woman who sing in feminist punk band, because she has not found man. He is from England, no? Very small, very damp, again like vagina... So, this Williamson, I say we ignore him. But if he die in crucifixion accident, or during night-time visit to abandoned sausage factory, send condolences to widow. Dmitri, you know what to do.'
---
'Look at the Irish situation with the British. The humiliation of Native Americans, how their language was denigrated. In Africa, of course, we were forbidden to speak our mother tongues. Japan imposed its language on the Koreans. So wherever you look at modern colonialism, the acquisition of the language of the coloniser was based on the death of the languages of the colonised. So [language] is a war zone.'
The Kenyan writer, Ngũgĩ wa Thiong'o, on colonialism, on writing in one's national tongue, and how repressive regimes seek to crush the imagination that says there is a better world than the world they rule, in interview with The Nation.
---
The English, keeping the Welsh language at bay... Like South Africa.
---
A friend of mine, an anti-Brexit campaigner and socialist in England, remarked on Facebook that it is inconsistent with Jeremy Corbyn's socialism that he opppose freedom of movement for European workers, and oppose laws designed for their joint protection. I agreed, and added that even though he accedes to the 52% who wish Britain to leave the EU, he ignores the majority in Scotland and Wales who seek greater autonomy within the UK. Within an hour, my English friend had blocked me, apparently for agreeing with her comment. As a Welshman.
I am sensible of the loss. I value my English friends. They give me opportunities to practise my patient sighing.
---
In my small single room in a cheap hotel near the railway station, the single-serving sachet of instant coffee bears the toothmarks of a previous guest.
---
21st February 2018: On World Mother Language Day, Smithsonian Magazine presents an account of what else is lost when a language dies.
---
A study conducted in 2016 into the psychology of the Brexit referendum contains good and bad news for Brexit supporters. The good news is that on average they rated higher on conscientiousness and lower on neuroticism in the Five-Factor Model than those who voted Leave, while the bad news is that they were less swayed by evidence and logic than Remainers, and more driven by emotion and instinct. Members of both camps showed a tendency to over-estimate their good judgement, though older people, who mostly voted for Brexit, were more likely to do so than the young, who mostly did not.
The kinder Brexit supporters with whom I engage insist that there will be no economic damage, that social divisions will not increase, that the closure of Maplin, Toys R Us, Prezzo, East and Mothercare is unrelated to Brexit, and that business leaders who say otherwise don't understand their own affairs. They insist that at best the fears of voters like me are unfounded and unnecessary, or at worst that they are seditious, and that all academic, commercial and governmental forecasts, whether conducted before or after the referendum, in the UK, in Europe, or further afield, are wrong. I see no way to bridge this gulf. They are doomed never to understand what they have done, I never to understand why they have done it.
---
There is a theory that the quantum vacuum is unstable, allowing the nucleation of a bubble of space that would expand at the speed of light, in which the fundamental laws of physics would be different.
If such a vacuum engulfed the earth, then atomic matter would break down, and the entire planet dissolve in a fizz of subatomic particles. But even this would not stop Brexit, says Theresa.
---
In the UK, the government withdraws funding from Cornish-language projects, and fails even to mention the existence of Irish in its report on protected dialects to the Council of Europe. In Wales, the announcement of Cymraeg 2050 is met with a torrent of cross-border racism, as bilingual policy is held up as a cause of everything from road accidents to child abuse.
In Spain, the government seeks to undermine the official status of the Catalan language in a seeming act of collective punishment, which effectively admits that the Catalan people desires independence. For ultimately, nationalism is not vilified because it is violent, or because it is authoritarian, or even because it threatens a delicate international peace. It is abused because it defends the right of someone else's culture to exist.
---
Image manipulation by a friend. Theresa May brings her qualities of determination, vision and delicacy of touch to the difficult task of EU negotiation.
---
The original series of Flash Gordon, starring Buster Keaton in the title role, is touchingly reminiscent of The Wizard of Oz. Flash Gordon needs a brain, Dale Arden needs a spine, and Dr Zarkov needs a pair of trousers.
---
So hard Brexiteers, and indeed hard Remainers, fear ending up in an emasculated vassal state to a more powerful, more prosperous eastern neighbour.
Welcome to Wales.
---
#BrexitMeansRacism: And here, Prof Tanja Bueltmann, an historian working at Northumbria University, shows us the hate mail she has received in the wake of Brexit.
---
Ignore the facts. Punish the traitors. Silence the realists. Shout the slogans. Repeat.
---
14th January: The rally outside the Senedd in support of Brexit yesterday, organised by the People's Charter with speakers from UKIP, was less than spectacular. A dozen or so people turned up.
This was the rally whose participants were specifically asked to leave their swastikas at home.
---
3rd January: Since implementing direct rule, the government of Madrid has imposed Spanish as the language of government in Barcelona, in place of Catalan, reports El Nacional.
---