News from Rob Mimpriss (2019)
---
Click to read more: 'With the future of Wales being constantly undermined by the Tory Government, we believe independence is now the only viable option for our future as a nation.'
Iestyn ap Rhobert, Chair, YesCymru
---
Image from Belfast Telegraph.
Click for more: 'Unless there is a change of heart among our British friends, Brexit will become a reality, with all its negative consequences, in March [this] year. We on the continent haven't had a change of heart. Our hearts are still open to you.'
---
Click to read a short story for March: 'In the Camps.' A Romanian exile's minor encounter with the Austrian police raises memories of Nicolae Ceauşescu's prison camps. Published in Reasoning: Twenty Stories.
---
Latest publication: 'The Cloak of Kings' Beards: Three Welsh Folktales' with a European theme, in New Writing: The International Journal for the Practice and Theory of Creative Writing, 24th September 2018.
---
Latest post: a translation of the short story, 'Enemies,' by Thomas Owen Jones, published in 1931. A lifelong quarrel between two neighbours comes to a macabre end.
---
If you sign this petition to cancel Brexit, with a list of signatories to rival the population of Wales, then it will give you an insight, when the UK government ignores it, into what it is like to come from Wales.
---
Put it to the People: March for a People's Vote on Brexit, High Noon, 23rd March. Park Lane, London.
'The huge march is likely to be even bigger than the previous demonstration organised by the grassroots People's Vote campaign back in October 2018, which was attended by around 700,000 people - including thousands from across London.' MyLondon.News
For more information visit www.peoples-vote.uk/march
---
And in other news, there is fury from readers of the Daily Mail as MGM announce a remake of The Wizard of Oz with an all-female cost, including Theresa, who wants a heart, a brain, and some courage, and Dorothy, who just wants it to stop.
---
I was pondering the importance of blood in Christian iconography, even though, from what I have read, crucifixion does not cause much blood loss, and that if bleeding is what one is after, it would make more sense to deify someone who had died on the guillotine. I remembered the claim that Jesus instituted the Eucharist by telling his disciples to drink the bread of his flesh and the wine of his blood, before recalling what Geza Vermes tells us, that no first-century Galilean Jew would have uttered, or tolerated, such an appalling obscenity, and that our earliest description of the Last Supper comes from Paul, who admits that he was not present, and is reliant on divine revelation for his account of what happened there. I recalled those nonconformist chapels whose moral timidity is such that instead of serving the Wine that represents the Blood, they serve the Blackcurrant Juice that represents the Wine, and then I realised that I was standing alone in a muddy field, muttering.
---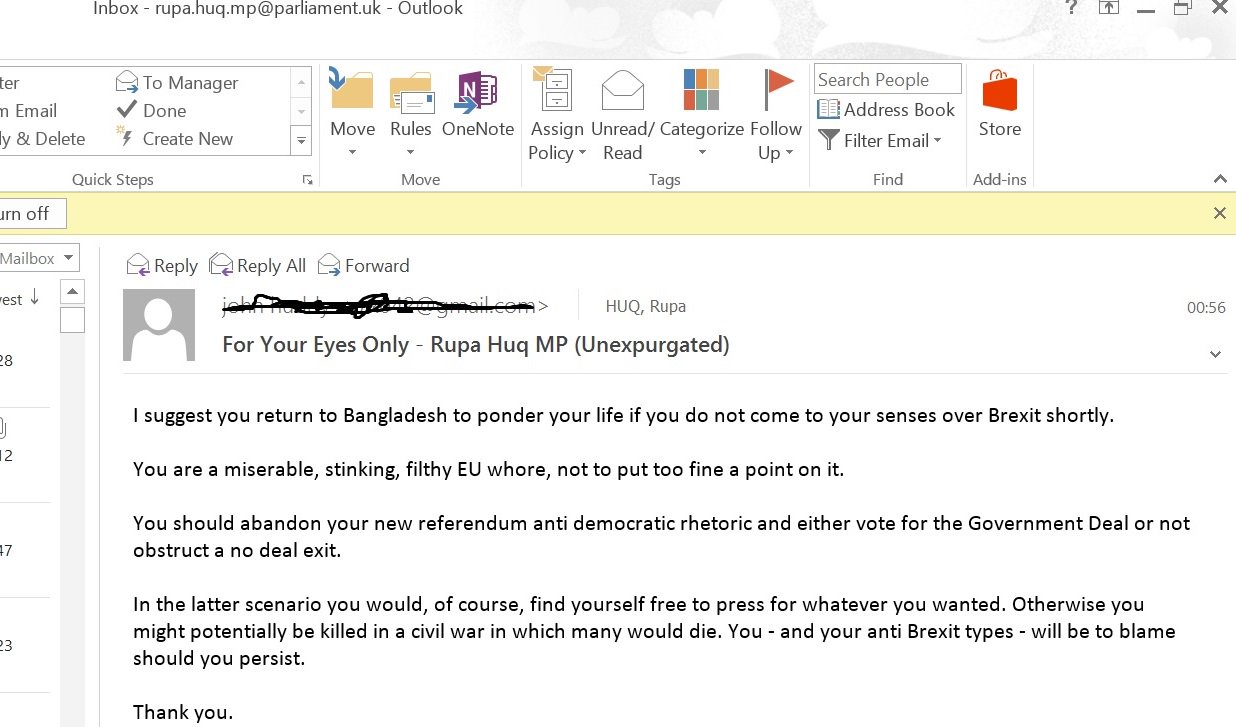 Brexit means fascism. And here, a screenshot of her inbox tweeted by Rupa Huq MP, containing an email addressing her as a 'filthy EU whore' and demanding that she 'return' to Bangladesh or risk death in the civil war that will follow the overturning of Brexit.
---
Fill in the captcha and click 'I'm a human'? Why, certainly I'm a human. Sarah Connor, darling, I'm your mother.
---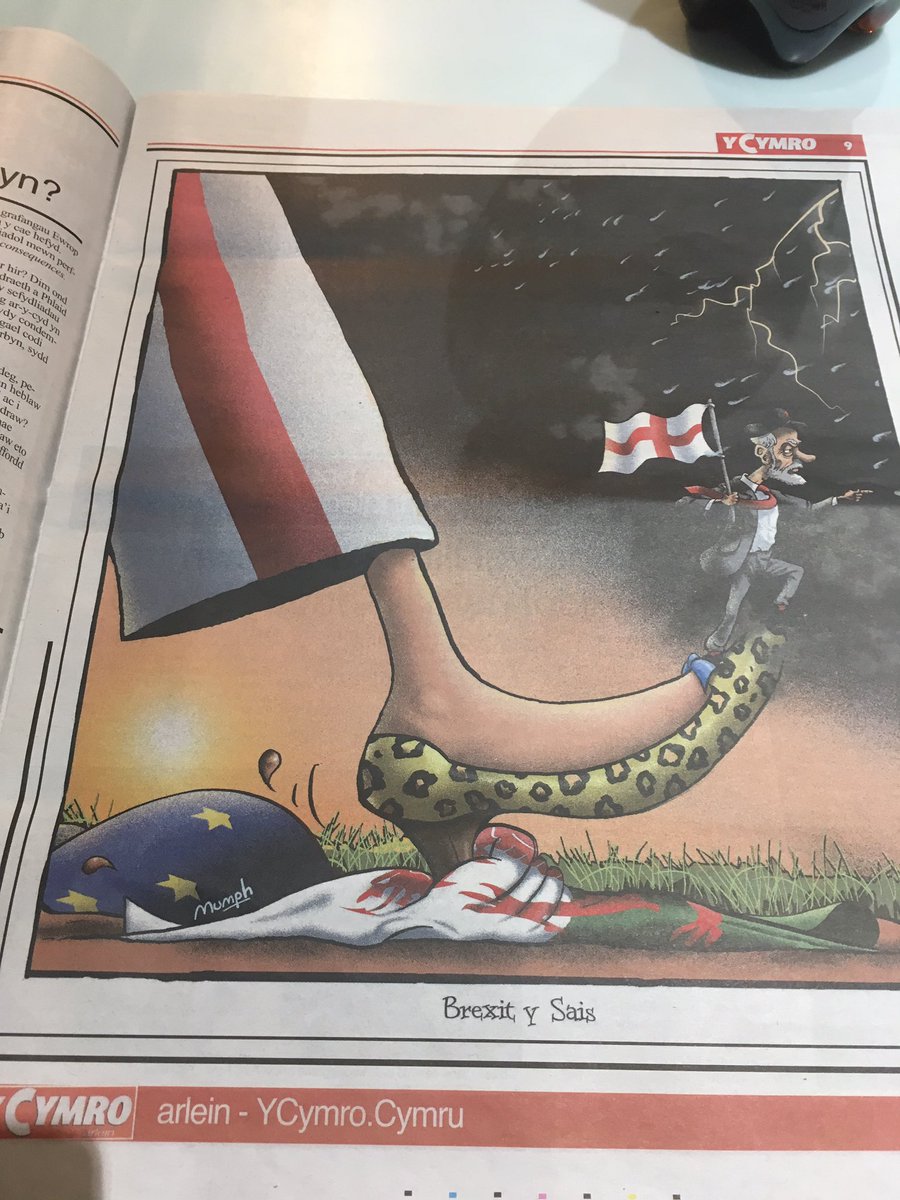 Cartoon by Mumph for Y Cymro
---
'It is no coincidence that the return of a fascist movement is accompanied by the call to make country x, y or z "great again." It is the greatness of force, power, and the false promise of the return to an unattainable past. That greatness is the opposite of... the human capacity to transcend ourselves, to have imagination and empathy, to live in truth, create beauty, and do justice. This is the true greatness of honouring the dignity of every human being. This is what a democratic civilisation is all about.'
Rob Riemen, To Fight Against This Age: On Fascism and Humanism (London: W.W. Norton, 2018).
---
28th January: The Sunday Times reports that the UK government is considering the declaration of martial law after Brexit, with the power to impose curfews, travel bans, and confiscations, and with the use of soldiers to quell the food riots. Many of the Brexiteers I have attempted to reason with over the last few years would find the prospect of martial law rather gratifying.
Meanwhile, The Mirror and The Daily Mail describe a report compiled by national intelligence services and shown to EU leaders, including Theresa May, predicting that Brexit will leave the UK politically unstable for decades to come, with a resurgent far right and civil unrest, and with independence referendums in Scotland and Northern Ireland within eighteen months of departure.
---
21st January: Click to read my letter to the editor of the Sunday Times concerning its poll asking readers whether the Welsh language should be taught in Welsh schools.
---
Offended by the claim that Brexit is an English nationalist movement, and challenged to explain why else the Celtic nations have rejected it, my correspondent tells me that this is because the English are naturally more capable of leadership than the Scots and Welsh.
---
The logical end of Brexit: The Sun reports that leading Brexiteer and former UKIP leader, Diane James, has called for England to secede from the UK as the only way to ensure a hard Brexit.
---
2019 2018
2017 2016 2015 2014 2013
A defence of EU membership
A defence of Welsh independence
I am the author of three short story collections. Reasoning and For His Warriors, originally published by Gwasg y Bwthyn, Caernarfon, with Welsh Books Council support, now join Prayer at the End in revised editions at Cockatrice Books. My anthology of fiction, Dangerous Asylums: Stories from Denbigh Mental Hospital Told by Leading Welsh Writers, including work by Gee and David Williams, Glenda Beagan, Carys Bray, Simon Thirsk and others, was published by the North Wales Mental Health Research Project, October 2016. I was a contributor with Nigel Jarrett, Rachel Trezise, Tristan Hughes and others to Brush with Fate, an anthology of Welsh fiction translated by Hala Salah Eldin. I am a member by election of the Welsh Academy.
I am the translator of Going South: The Stories of Richard Hughes Williams (Cockatrice, 2015), Hallowe'en in the Cwm: The Stories of Glasynys (Cockatrice, 2017), and A Book of Three Birds, the seventeenth-century classic by Morgan Llwyd (Cockatrice, 2017). In addition, I have translated fiction by D. Gwenallt Jones, Angharad Tomos, and Manon Steffan Ros.