---
Images of the March for Independence, Cardiff, 11th May 2019 by Ifan Morgan Jones and Freya Sykes supplied by nation.cymru under a Creative Commons Attribution licence
Click to read more: 'With the future of Wales being constantly undermined by the Tory Government, we believe independence is now the only viable option for our future as a nation.'
Iestyn ap Rhobert, Chair, YesCymru
---
Image from Belfast Telegraph.
Click for more: 'Unless there is a change of heart among our British friends, Brexit will become a reality, with all its negative consequences, in November [this] year. We on the continent haven't had a change of heart. Our hearts are still open to you.'
---
Click to read a short story for June: 'Valiant,' a story of mortality, love and hope set among AIDS sufferers in a Welsh holiday resort. Published in For His Warriors: Thirty Stories.
---
Click to read: 'Reflections on the Destiny of the British Race,' new fiction published by New Writing: The International Journal for the Practice and Theory of Creative Writing, and available to read on site.
---
Latest post: three tales for Europe, recently published in the peer reviewed New Writing: The International Journal for the Practice and Theory of Creative Writing, and available to read on site.
---
Tucked between the pages of my copy of Diane Williams's selected stories, and in the handwriting of a previous owner, a reading list containing stories by Chekhov, Maupassant, Daudet, Turgenev and Elizabeth Bowen, partly pictured above. One of the joys of writing short stories, along with the formal rewards and challenges, is the dedication and learning of a very small body of readers, who have tapped the roots of the form, and are aware of its global reach.
---
9th June: Today, I present a second retelling of the fables of Iolo Morgannwg:
Those who flee from danger are quick to run into greater danger, and those who seek advancement are seldom aware of its cost. Hence two trout who saw the fisherman's net closing in took counsel with each other how to escape. One said, 'I will dive down to the bottom of the river, and there I will hide in the filth and the gloom until the danger is passed.' But the other said, 'Your cowardice is not for me. I will make the leap onto dry land, and there I will live proud and free, without fear of the fisherman or his net.' But as soon as he was on the riverbank he began to gasp for breath. 'Oh,' he said, 'that I had been content to hide in the sheltering cool like my friend: and I might have evaded the fisherman's net forever.' And so, flapping helplessly on the river bank, exposed to the light and air, the proud trout choked his last.
---
An article from The Sunday Times. In many cases elderly, conservative, affluent, spoilt, hostile or patronising towards cultures not English, or so obsessed with their own reflections as to be oblivious to anything else, these people will never have the wit to imagine the quiet terror they instil in our hearts.
---
26th May: Today I present a fable retold from Taliesin Williams' translations of the Iolo manuscripts:
A magpie saw how clumsily a wood pigeon was building her nest, and tried to help her by giving instructions, saying, 'Put a twig here and a twig there, one twig this way and one twig that, and so your nest will be comfortable and strong.'
'I know, oh! I know, oh! I know, oh!' said the wood pigeon, but for all that he patiently tried to teach her, she ignored his advice, building as clumsily as before. Finally the magpie grew impatient with her. 'You know,' he told her in disgust, 'but you don't do.' And away he went about his own affairs, while still the wood pigeon called out, 'I know, oh! I know, oh! I know, oh!' behind him.
---
In thought experiments in Physics, a Boltzmann Brain is a brain-like structure complex enough to be self-aware, which could come into being through the random interactions of quantum particles in a universe vastly older than our own.
By the time a universe was old enough to have an even chance of giving rise to a Boltzmann Brain, its stars would have died, its average temperature would dropped to near absolute zero, and this single mind would find itself inhabiting a featureless and unchanging void. Such a quantum brain would lose no heat to the surrounding vacuum, and in a highly stable universe, could live for ever. It is far more likely that it would have the time to formulate one coherent thought before the quantum particles of which it was composed ceased to exist again.
---
According to a rather apologetic conductor, the reason there are not enough seats on the train is that the train does not have enough carriages. The ability to inspire ongoing enquiry is the mark of a truly great mind.
---
A remark by a friend: today, if opinion polls are to be trusted, the small nation of Wales which has socialism written into its DNA will vote for a far-right party led by a millionaire banker, whose policies will trash its economy, erode its culture and if successful, abolish its democracy. We live in sad and frightening times.
---
A passage from Alphonse Daudet's Letters from my Windmill describes a visit to the poet, Frederic Mistral, who reads to him from his poem, Calendal, describing the mythical adventures of a Provençal fisherman, and written in 'that beautiful Provençal language, more than three-fourths Latin, the language that queens once spoke and none but shepherds can now understand':
That is the tale of Calendal; but Calendal matters but little. What there is above all in the poem is Provence; Provence of the sea, Provence of the mountain; with its history, legends, manners, customs, landscapes — a whole people, naïve and free, who have found their great poet before he dies. And now, line out your railways, plant those telegraph poles, drive the Provençal tongue from the schools! Provence will live eternally in Mireille and in Calendal.
The short story is available in its entirety, along with my favourite of his short stories, here. Mistral was awarded the Nobel Prize in 1904.
---
I went on holiday in Wales once. It was horrible. The moment I walked into the pub, everybody stopped beating their children.
---
30th April: #BrexitMeansFascism. Hence, a little less than a year after Rachel Sylvester writes in The Times (print. 12th June 2018) that an MP has been intimidated into voting against amendments to the Brexit deal by death threats sent by Brexiteers against his family, The Independent reports that houses displaying placards by pro-European parties in England are vandalised, with slogans such as 'Traitor' spray-painted on their walls.
---
I quote a tweet by Tim Walker, journalist as Mandrake for The Daily Telegraph, The Mail on Sunday and The New European: 'One Tory MP to me: "We have no provision for an ageing population and Brexit is a device to help people accept that they'll be left to die."'
---
I quote Sean O'Faolain, in his book, The Short Story (1951), on the nature and the popularity of the form:
Yet, surely, the obvious distinctive element in the short story — distinguishing it from every other art — is its shortness: i.e., the fact that the writer has deliberately selected some special incident or character; and that there can, or should be, only one reason for this — because it is (to quote Maupassant again) 'in good concordance with all the tendencies of his thought.' In other words the short story is an emphatically personal exposition. What one searches for and what one enjoys in a short story is a special distillation of personality, a unique sensibility which has recognised and selected at once a subject that, above all other subjects, is of value to the writer's temperament and to his alone — his counterpart, his perfect opportunity to project himself.
I read O'Faolain nearly twenty years ago, among a stack of similar books, while studying the short story. I remembered the impression it made on me, even while forgetting its content, and now I read the book again with the same surprised delight.
---
Following the destruction of the Tryweryn mural, which the police are treating as a hate crime, the poet and editor Brett Evans's poem, Graffiti, reflects on its restoration, on the sudden appearance of fifty similar murals across Wales, and on the determination of the people of Wales to remember and pass on their heritage.
---
16th April: If, yesterday evening, a linguist had announced that Breton, or Basque, or Provençal, would become extinct in France unless concerted action were taken to honour its speakers and nurture its use, would the French government take the view that these languages are a vital part of French heritage, and immediately move to protect them? Would private donors contribute a billion euros, and would the airways in the UK be filled with expressions of shock and grief? The nature of buildings is, first, that they can be destroyed, and second, that they can be rebuilt; but languages and cultures, once gone, are almost invariably gone forever. And the nature of people is that we seem more awed by our physical handiwork than by the things that lie closest to us, or that we carry within ourselves.
---
I awoke from uneasy dreams, in which a rather slick Head of Department explained to me that while all my current students had met the academic requirements for enrolment at the time, they were no longer needed by the forward-looking and successful institution that my university considered itself to be. Moreover, in my dream, my Head of Department explained to me that to save on the cost of additional assessments, it would lie with my students themselves to decide by weekly vote which of them was to be ejected from the course. In my dream I explained to my class that I was standing firm by my principles, and would never permit such barbarity in my classroom, even though my employers were preparing to dismiss me. It was then that I awoke, and after brief misgivings, felt profoundly grateful to live in a society which values human flourishing above all else, and would never be so cynical, or so naive, as to marketise its education system.
---
Mimpriss's law of marking relativity: as the number of papers in one's inbox falls, so does the amount of time required to read and comment on each one increase.
---
'"Scum" painted on Plaid Cymru office door in Caernarfon': Image and story from North Wales Chronicle
10th April: I cannot imagine for what valid reason these decent, principled parliamentarians and their staff should be subjected to such abuse, unless it is the work of some Thomas Mair-like figure, whose need of help has gone unmet. Otherwise, they are being abused for the same reason that Poles, Jews and Muslims are being abused: because they are not British nationalists, and because they are deemed foreign.
---
It is a truth universally acknowledged among science fiction filmmakers that faster-than-light travel is a more common invention than the nail clippers.
---
30th March: Pictured above are some of the million or more good-natured moaners and remarkably patriotic traitors converging on London on 23rd March in an attempt to stop Brexit and precipitate a People's Vote, free from corruption and foreign interference, and with an electorate better informed on the benefits of remaining in the EU. Protesters from every nation in the UK, and camera crews from the UK and beyond: in the picture I am asked by a Dutch TV crew what I believe the EU has done for Wales, and why Wales should remain European. Image kindly supplied by a friend.
By contrast, I quote Barts on Twitter concerning the much smaller but more violent pro-Brexit rally last night: 'Just got back from Parliament Square after being there about 20 minutes. It was horrible, a chanting football crowd, with an air of drunken menace, mostly unsmiling, tattooed men, Tommy Robinson ranting about Muslims. I didn't belong there. At this precise moment I'd vote Remain.'
I also quote tweets by Rachel Wearmouth, a journalist for Huffington Post: 'Now I'm home safe, I can tell you about the Stephen Yaxley-Lennon (Tommy Robinson) rally earlier. Guy behind says, "Hold a flag." I politely declined. He then asked who I was and why I was there. I said, "Someone watching the speeches," and reminded him it was a public place. Normally I'd say I was a journalist but was scared. He said, "You look left wing to me," got his phone out and started filming my face from barely a metre away, repeatedly saying, "I'm going to find out who you are," and "Just you watch." ...Genuinely felt that if I'd admitted to being a journalist or somehow drew any more attention to myself someone would have hurt me.'
---
And in other news, there is fury from readers of the Daily Mail as MGM announce a remake of The Wizard of Oz with an all-female cost, including Theresa, who wants a heart, a brain, and some courage, and Dorothy, who just wants it to stop.
---
I was pondering the importance of blood in Christian iconography, even though, from what I have read, crucifixion does not cause much blood loss, and that if bleeding is what one is after, it would make more sense to deify someone who had died on the guillotine. I remembered the claim that Jesus instituted the Eucharist by telling his disciples to drink the bread of his flesh and the wine of his blood, before recalling what Geza Vermes tells us, that no first-century Galilean Jew would have uttered, or tolerated, such an appalling obscenity, and that our earliest description of the Last Supper comes from Paul, who admits that he was not present, and is reliant on divine revelation for his account of what happened there. I recalled those nonconformist chapels whose moral timidity is such that instead of serving the Wine that represents the Blood, they serve the Blackcurrant Juice that represents the Wine, and then I realised that I was standing alone in a muddy field, muttering.
---
Fill in the captcha and click 'I'm a human'? Why, certainly I'm a human. Sarah Connor, darling, I'm your mother.
---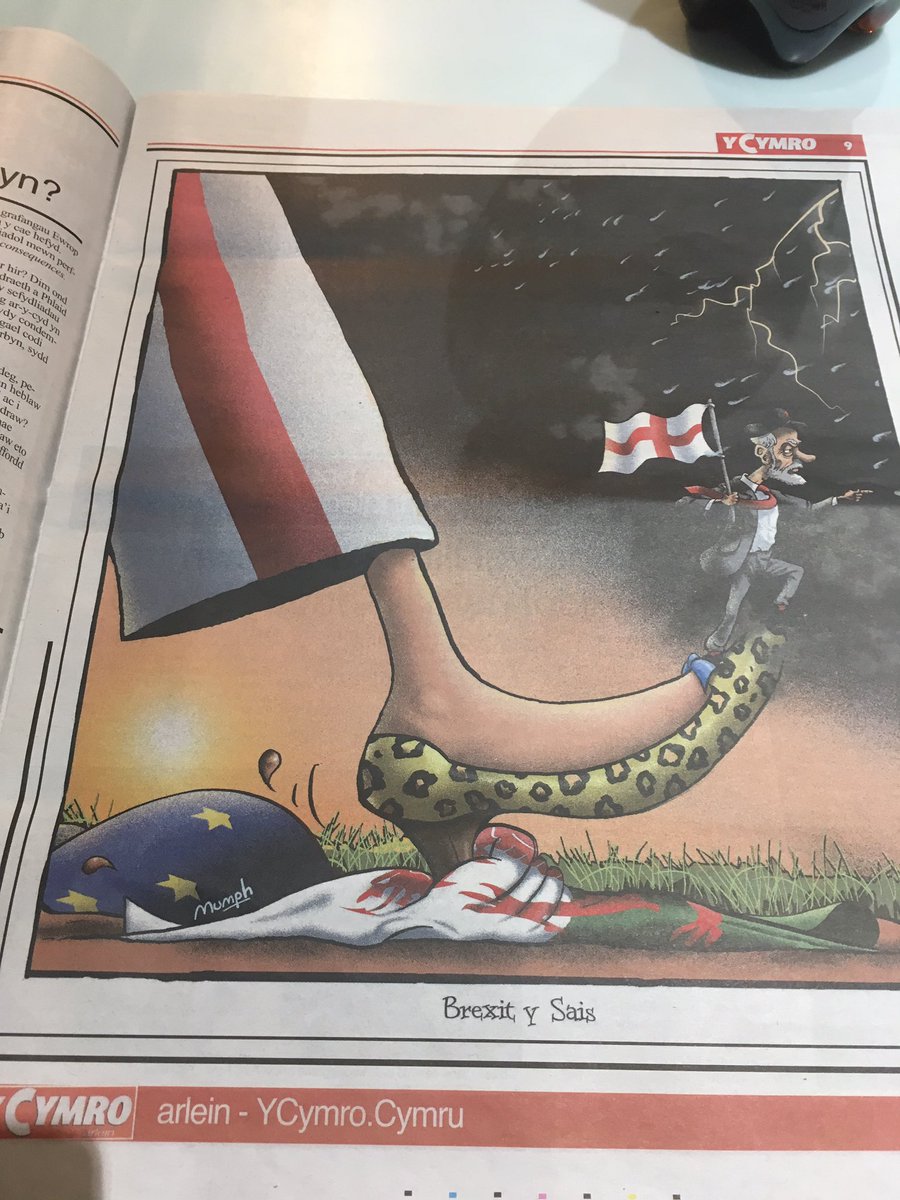 Cartoon by Mumph for Y Cymro
---
'It is no coincidence that the return of a fascist movement is accompanied by the call to make country x, y or z "great again." It is the greatness of force, power, and the false promise of the return to an unattainable past. That greatness is the opposite of... the human capacity to transcend ourselves, to have imagination and empathy, to live in truth, create beauty, and do justice. This is the true greatness of honouring the dignity of every human being. This is what a democratic civilisation is all about.'
Rob Riemen, To Fight Against This Age: On Fascism and Humanism (London: W.W. Norton, 2018).
---
28th January: The Sunday Times reports that the UK government is considering the declaration of martial law after Brexit, with the power to impose curfews, travel bans, and confiscations, and with the use of soldiers to quell the food riots. Many of the Brexiteers I have attempted to reason with over the last few years would find the prospect of martial law rather gratifying.
Meanwhile, The Mirror and The Daily Mail describe a report compiled by national intelligence services and shown to EU leaders, including Theresa May, predicting that Brexit will leave the UK politically unstable for decades to come, with a resurgent far right and civil unrest, and with independence referendums in Scotland and Northern Ireland within eighteen months of departure.
---
21st January: Click to read my letter to the editor of the Sunday Times concerning its poll asking readers whether the Welsh language should be taught in Welsh schools.
---
Offended by the claim that Brexit is an English nationalist movement, and challenged to explain why else the Celtic nations have rejected it, my correspondent tells me that this is because the English are naturally more capable of leadership than the Scots and Welsh.
---
The logical end of Brexit: The Sun reports that leading Brexiteer and former UKIP leader, Diane James, has called for England to secede from the UK as the only way to ensure a hard Brexit.
---
2019 2018
2017 2016 2015 2014 2013
A defence of EU membership
A defence of Welsh independence